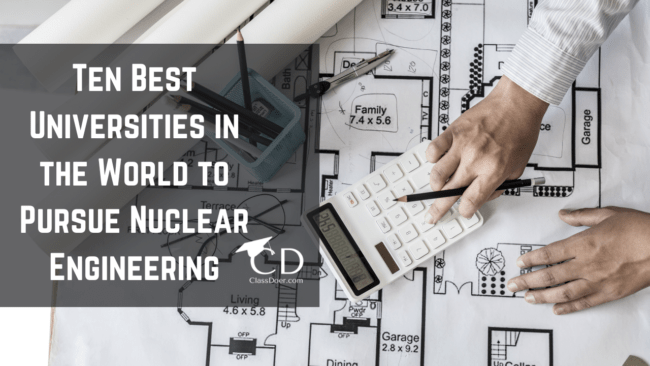 Nuclear engineering studies thermodynamics, nuclear radiation, and radioactive material. It further deals with the radioactive process for the benefit of mankind. Nuclear fission contributes 10% of energy to the world. In the upcoming years, we can expect to receive more energy contributions through nuclear power plants. Nuclear studies is not a widely popular course compared to other engineering disciplines. It is still in a growing stage and not as active as other courses. Nuclear engineers work in scientific research and development, manufacturing companies, and Electric power generation.
Are you someone who is looking forward to starting a career in nuclear studies but is confused about where to start? Do you want to know about the top universities offering courses in nuclear engineering? Yes, read this blog post by ClassDoer.com. Here we have listed the top 10 universities to study nuclear engineering courses.
What Factors Should You Consider Before Selecting a Nuclear Engineering College?
Do you have no idea what elements to consider when selecting a university? If so, please see the material below to learn more.
University accreditation:

Check the accreditation of the college you've chosen. Accreditation indicates that your selected college is recognized by the country's government as providing high-quality education. Do not overlook these factors because obtaining a degree from an unaccredited college will cause difficulties in finding work.

Syllabus and homework:

Look for the college syllabus and assignments of the universities. Some institution offers multiple complex assignments on English and other subjects which creates difficulties for students. To deal with the pressure they consider asking someone to

do my online English class

from the professional class takers.

Students and professor ratio:

It is a ratio that indicates the number of students in a classroom for each teacher. This student-professor ratio will show you how well you can engage with your teacher and clear your doubts.

Scholarship program:

If you plan to study nuclear engineering in any of the international colleges, it is important to know about scholarships. Most universities offer the best scholarship programs to domestic and international students. Check whether you fit in that category or not. Getting scholarships will cut down most of your expenses in a foreign country.

Internship:

Check out internship programs as they will help you in getting good and high-earning jobs.

Job placement opportunities:

Along with all the other things you must also check the placement opportunity. See whether top companies come into your college for hiring or not. Do not choose a university that does not offer this facility. As finding a job on campus is easier than compared to the outer world.
Best Nuclear Engineering Universities
After determining what you want to study, the next important step is to decide where you want to study. Many institutions and schools, both nationally and globally, may offer similar nuclear engineering courses you are interested in pursuing. However, you must ensure that you choose the greatest option available so that you do not encounter any problems in the future. Here is the list of the top ten institutions to study nuclear engineering courses.
Also Read: Advantages and Disadvantages of Chemical Engineering
1- University of Michigan -Ann Arbor
This university stands in the first position and offers the best nuclear engineering courses. Apart from that, this university ranks seventh position among the best engineering schools. There are many four-year and two-year nuclear engineering courses available at this university. Below is the list of nuclear engineering courses that you can outsource at the University of Michigan -Ann Arbor:
B.sc Healthcare Science (Nuclear Medicine) (Hons)

Bachelor of Medical Radiation – Nuclear Medicine

Medical Radiation – Nuclear Medicine

Chemical with Nuclear Engineering

Nuclear Medicine Technology

Nuclear and Radiological Sciences
2- Massachusetts Institute of Technology
The Massachusetts Institute of Technology stands as the world's second-best college for nuclear studies. This university is in Cambridge, United States of America, ranked in first position in engineering schools. Whether you want to pursue nuclear studies or any other engineering courses this university is best of all. There are many bachelor's and master's courses available at this university. A few of the best courses to pursue here are as follows:
Nuclear Science and Engineering – BACHELORS

Nuclear Energy: Science, Systems, and Society

Nuclear Science and Engineering – MASTERS

Introduction to Nuclear Engineering and Ionizing Radiation 
3- North Carolina State University
North Carolina State University is the third-best university to study nuclear engineering courses and stands in the 25th position among the best engineering schools in the world. This is considered to be the best and most affordable university in the United States of America. This university is best for the following areas:
Nuclear materials and fission power

Computational science

Radiation applications and 

Radiological engineering
North Carolina State University is the only university in Carolina that offers nuclear engineering programs. As a student of this university, you may get benefits like undergraduate research, graduate assistantships, high-quality undergraduate programs, and many others.
4- Texas A&M University
Texas A&M University is highly ranked in the engineering specialization of nuclear engineering. This university also ranks third place in providing the best nuclear engineering education to students and 10 in the best engineering schools. Texas A&M University is the best place for all kinds of engineering, whether it is aerospace, petroleum, ocean, safety, industrial, electrical, electronic, agriculture, and so on. This university offers six different degrees in engineering namely:
Master of Science (M.S.)

Master of Engineering (M.E.)

Master of Computer Science (M.C.S.)

Master of Industrial Distribution (M.I.D.)

Doctor of Philosophy (Ph.D.)

Doctor of Engineering (D.E.)
As a student of this university, you are eligible to get three types of assistantships namely teaching, research, and non-teaching activities. You can also find the best student loan and cut down your overall expenditure.
5- University of California, Berkeley
The University of California, Berkeley, is also the third-best nuclear engineering college in the world. Any master's degree in engineering takes two years but here at this college, you can complete your master's in engineering in one year with the accelerated Berkeley Engineering Professional Master's Program. Most of the students studying at this university face difficulties as the student-to-teacher ratio is lower. So those students prefer to ask to do my nuclear engineering class from the online writers.
6- University of Wisconsin
The University of Wisconsin is ranked third in nuclear engineering and 27th for other engineering degrees. The full-time fee for one year is around $10,728. the full-time enrollment rate is 1574. The Ph.D. student-faculty ratio at this college is 3.4:1 and the Full-time faculty (tenured or tenure-track) is 275.
7- University of Tennessee
The University of Tennessee–Knoxville is the world's seventh-best nuclear engineering specialization university. Tuition for master's degree programs, including full-time and part-time, is $639 per credit for in-state students and $1,650 per credit for out-of-state students. Full-time and part-time doctoral tuition is the same as master's tuition.
8- Georgia Institute of Technology
Georgia Institute of Technology is ranked seventh in a nuclear engineering college. Students can do research in Fission and Fusion as well as Radiological Engineering at this institute. The Georgia Institute of Technology focuses on nuclear engineering in the following areas:
Radiation sources and detection instruments

R

adiation transport

Nuclear reactor core design

Criticality safety

Radioactive materials management

Reactor operations

Nuclear power economics

Reactor systems engineering
9- University of Illinois Urbana
The University of Illinois at Urbana is the eighth-best nuclear studies university in the world. Nuclear studies might be difficult for students who do not have technical skills or knowledge of technical applications. If you are one of those students, it is best to strengthen your foundation in nuclear studies and enroll in the best nuclear engineering colleges in the world.
10- Pennsylvania State University
Pennsylvania State University at University Park ranks tenth in nuclear engineering. If we talk about engineering schools then this engineering school is ranked in the 32nd position. The application fee here is $65 for both national and international students. The course provided by Pennsylvania State University also focuses on mathematics which provides some difficulty for students. Hence, they preferred asking someone to do my online math class so that they could pass the course with great scores. 
Also Read: What Are the Upcoming Online Courses Trends in 2023?
Frequently Asked Questions
Question 1: Is nuclear studies a good course to study?
Answer 1: Nuclear power plants help in the maintenance of radiology equipment. Nuclear studies is in a growing phase and you might find difficulty at the beginning. But this study of thermodynamics can be increased in the future and you can expect to have a good career here.
Question 2: What are the different branches of nuclear engineering?
Answer 2: Fusion energy and plasma physics, Reactor thermal hydraulics and heat transfer, Reactor physics and radiation transport, nuclear power, and nuclear waste management are a few areas of study in this engineering.
Question 3: Which is the most affordable university to pursue nuclear engineering?
Answer 3: The United States Naval Academy is the best and most affordable college for nuclear studies.