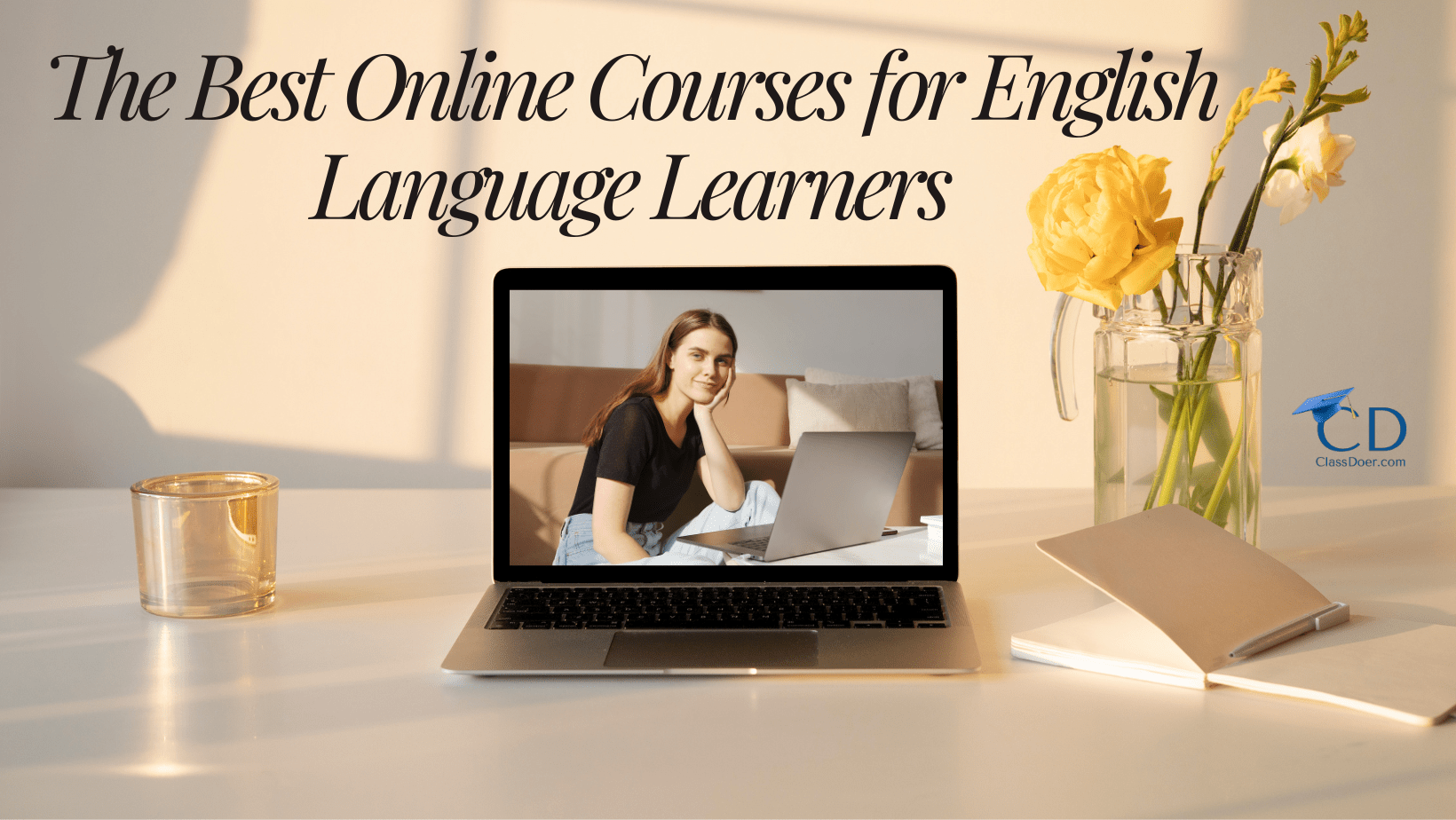 An English Language Learner (ELL) is someone who is studying English while coming from a non-English-speaking background. ELL is a term that is not used everywhere except in a few countries like the United States of America and Canada. This term was coined by Mark LaCelle-Peterson and Charlene Rivera. These two writers used this in 1994 in their study. It was when they differentiated students with English language difficulties from other English learners.
If you are someone who wants to explore more about this term's meaning and learn everything in detail, then this blog post by ClassDoer.com can guide you through it. In this blog write-up, we have discussed strategies to teach English Language Learners and courses where you can study these courses and move forward in your career.
What is an English Language Learner (ELL)?
The English language is universally accepted. It is a language that is used in almost all colleges and universities across the world. Students who have English as their native language often succeed, while those who have other languages as their mother tongue face difficulty studying. Do you know that students who are not from English-speaking backgrounds are classified under different terms? The first is an English Language Learner (ELL). There are also other terms used to define this group of people. A few of them are known as English as a Second Language (ESL), English as an Additional Language (EAL), Culturally and Linguistically Diverse (CLD), Limited English Proficiency (LEP), and many more. The term might be different, but the definition for all this is used to cater to students who use English as a second language or as a foreign language.
In the olden days, teachers were not aware of these terms and failed to give special attention to these kids to help them understand their English course materials. Out of no choice, these students prefer to get academic help by asking, Can someone do my online English class for me?" But now teachers are becoming more aware of this and trying to give non-English learners additional assistance from others.
How to Teach English Language Learners (ELL)
The struggle to learn English is real. Students who are not familiar with communicating and learning English face multiple problems, like losing their grades, nervousness, tension, and fear. Unfortunately, most teachers do not understand students' concerns with the English language, and they struggle alone. If you are a teacher who wants to provide the best learning environment for English Language Learners (ELL), then here are some ways to help you. Some of the innovative strategies used by Dr. Schneider to help all the teachers are listed below.
Build strong vocabulary:

The best way to learn a new language is to strengthen your vocabulary. As a teacher, let your students read as much as possible. Help them understand the meaning and learn new words. Once they build a strong vocabulary, further steps will be easier to follow.

Let them talk in the classroom:

For teaching English Language Learners (ELL), teachers need to build a safe and secure environment in the classroom. Your classroom must be set up so they can speak freely, express their opinions with their fellow students, and grow in knowledge.

Teach them through links:

It has been observed that students are likely to understand concepts in English better when they are taught with good examples and links. For example, if you teaching a lesson on relationships, you can connect your subject with students' lives. This way, they can comprehend things faster and remember them for a long time.
These are a few strategies through which teachers can promote good learning among English Language Learners (ELL). Teachers must understand that students using English as a second language might face many difficulties. The educators must be patient, guide them through it, and improve their learning disabilities.
Also Read: How Do Online Classes Help Military Veterans Prepare for a New Job?
Top English Language Learner Courses 
1- ELL Success in the Content Classroom: Teacher Toolbox Series Specialization
This is one of the best English Language Learner (ELL) courses available online on Coursera. Arizona State University offers this course. It is available in five languages: English, French, Portuguese (European), Russian, Spanish, Arabic, and Dutch. So anyone can easily enroll in these online courses and start learning.
This online course is completely flexible; anyone can learn it at their own pace.

You need not worry about your previous learning experience as this is an intermediate-level course.

The duration of this course is 2 months. Students must need to work a lot, at least 10 hours per week.

As per experts, anyone can complete this course in 6 months, but it may vary from person to person.

Lesson planning with the ELL in mind, assessing achievement with the ELL in mind, engaging ELLs and their families in the school and community, and all success in the content classroom: The capstone project, are the four courses that you will learn here.
2- Lesson Planning with the ELL in Mind
This is another excellent English language learner (ELL) course. This is also offered at Coursera by Arizona State University and is an extended part of ELL Success in the Content Classroom. This course is 100% online, and anyone can enroll for free and start learning.
3- ELL Success in the Content Classroom: Capstone Project
ELL Success in the Content Classroom: The capstone project is also part of ELL Success in the Content Classroom: Teacher Toolbox Series: Specialization.

Completing courses can take approximately fifteen hours. This English Language Learner (ELL) syllabus is divided into six weeks and is available in three languages: English, Arabic, and Dutch.
Also Read: Ten Best Universities to Pursue Nuclear Engineering
4- CONT693: Supporting English Language Learners
This is a professional course in teaching and training offered by Queen's University.

This course is best for professional teachers who are from an English Language Learner (ELL) background. Furthermore, it is great for coworkers and multilingual employees. Individuals who wish to build a strong and cooperative multicultural work environment can also pursue this course.

Students will learn in detail about how they can train students as English Language Learners (ELL) from different videos, articles, personal stories, and quizzes.

The delivery method for this course is asynchronous online. You do not have to follow any rules and regulations; you can learn at your own pace.

This course's fees can cost you CAD$650.

There are six modules in these online courses, and for each course, you must spend 10 hours, so in total you will be required to spend 60 hours.
5- 6519: English Language Learner (ELL)
This English Language Learner (ELL) course is offered by Centennial College. It is a two-year advancement program of five semesters. Are you an international student not studying at Centennial College? Then your course can cost you around $2,650 (a non-refundable tuition fee). The English language learner course is covered in five levels. All five levels of Elementary, Beginner, Pre-intermediate, Intermediate, and high intermediate are covered in this course program. You will study in a good environment and learn to understand your course materials.
There is only a small difference between an English Learner (EL) and an English Language Learner (ELL). EL refers to students who are learning courses in English. ELL refers to students who are learning courses in English despite being from a non-English background. It has been observed that ELL students have more difficulty learning courses in English. Not only in English courses, they struggle to understand and succeed in courses like statistics and many other subjects. If you also face problems learning statistics courses, then you can pay someone to do my online stats class to a professional helper. With this request, you may experience multiple benefits. It includes uncopied work, timely delivery of classes, No compromise with security, and effective customer support.
Frequently Asked Questions
Question 1: What is the future of English Language Learners (ELL)?
Answer 1: Several advancements have been made to provide a comfortable and good learning environment for students who use English as their second language. So in the future, we can expect that no one will face difficulty learning a new language.
Question 2: What are the different characteristics of English language learners??
Answer 2: Not all English Language learners are the same, and each of them needs different instructional support per their needs. There are five levels: beginning, developing, expanding, bridging, and extending.