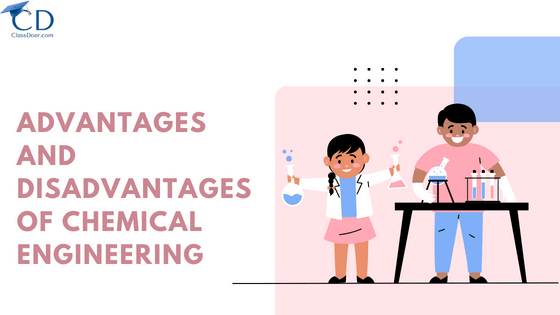 Chemical engineering is a branch of science that studies chemical plants. Chemicals are used in almost every part of our day-to-day lives, whether it is in food, clothing, or any other thing. Chemical engineers' primary responsibility is to maximize the production of chemicals and make the best use of raw materials. These engineers are mostly welcomed in sectors like fertilizer companies, the textile and petroleum industries, oil and gas companies, and coal companies.
Chemical engineering is not as well-known as other engineering disciplines such as mechanical engineering, electrical and electronic engineering, and civil engineering. Most students regard it negatively and prefer to pursue other fields of engineering. But if you are interested in earning a degree in chemical engineering, then let me tell you: don't listen to anyone else. This is one of the best degree courses to pursue. You can briefly explore the benefits and drawbacks of studying chemical engineering in this blog post by classdoer.com.
Advantages of Studying Chemical Engineering
The chemical engineering field is growing day by day. In the next few years, it is expected to see a growth rate of 6%. So if you are considering starting a career in this field, now is the time. But before enrolling in any course, you must consider its advantages and disadvantages. Prior knowledge will help you make the right decision. Below in this section, we have discussed a few of the pros of studying chemical engineering courses.
1- Better career opportunities
Once you complete your degree in chemical engineering, you can expect to have the best start in your career. Yes, this degree can provide you with high-earning jobs and you can kick start and have a successful career ahead of you. This degree is not related to certain roles and you can get excellent pay and benefits. While earning this degree you get to learn different skills and knowledge all of which will contribute towards getting you the best pay.
Are you thinking about what you can do after your degree in chemical engineering? You can become a biomedical engineer, process engineer, pharmaceutical engineer, Thermo-fluid engineer, or Fire, and explosions engineer. You can work in industries like food and production, coal, petroleum, and the education industry. If we talk about the best place to work as a chemical engineer then it would be none other than Texas where you can earn in dollars.
2- High-level technical knowledge
There is no doubt that chemical engineering is a challenging subject to learn. You might face many problems understanding the course material or writing assignments and exams. However, this degree provides you with a good level of education. Chemical engineering is related to many other branches like biochemistry, information technology, agriculture engineering, nuclear engineering, and biotechnology and all of this will improve your technical knowledge about many things. Furthermore, it will also include some classes related to applied science. However, if you get stuck in between the classes, you can hire an expert and ask them to do my online applied science class for me.
3- You can learn different skills from this engineering course
As a student, you must know the importance of skills and what role they play in the corporate world. Completing a degree is not at all enough to get good jobs. You must also learn many soft and hard skills to shine in your career. However, in a chemical engineering degree, you can easily learn different types of technical skills which will be an added advantage for you. Leadership skills, interpersonal skills, analytical skills, problem-solving, pressure skills, ability to work under pressure, communication skills, critical reasoning, and creativity are a few of the skills you can show in your resume as a chemical engineer.
4- Explore different areas
Completing a degree in a professional field will always open up job opportunities in the same field, right? However, chemical engineering is not the same. You can explore the jobs related to this field and in many other fields like consultancy. The different skills learned from this course will provide you with a good and positive career. If you don't want to pursue the same fields, you can explore other fields and earn a good salary.
Also Read: How to Score Well In Your Online Midterm and Final Exams?
5- Contribute towards changes in the world
Everyone wants to make the world a better place, but only a few are capable of doing it. Yes, you can make the world a better place to live in for future generations by learning chemical engineering. Chemical engineers' major work is to experiment with different chemical properties to improve human lives from before. These engineers work with different properties to provide us with the best resources. They are also known as universal engineers who tend to protect our universe. Chemical engineers make necessary measurements to protect our environment and manage our climatic conditions and pollution. Hence chemical engineering is the best degree to pursue if you are looking to help mankind either directly or indirectly.
6- Never face a recession
Once every ten to twenty years, all the top companies go through a recession period where the organizations remove many employees and thousands of people become jobless. The last great recession was back in 2007 when the world and people suffered so much. Chemical engineering is a new discipline that does not have tough competition and its demands are required in almost all fields. Hence you can be assured that you won't be facing any recession with this degree. If you didn't get a job in one field you can try in another field as you have the required knowledge to work in different sectors of industry.
So that was a list of advantages you will receive by pursuing a degree in chemical engineering. In addition to all that you can get placed in the top companies all across the world. Chemical engineering consists of complicated theories and subjects like mathematics, and organic chemistry which might be difficult to understand. In that case, you can get assistance by hiring someone to do my online math class for me and easily submit all of your difficult assignments. Online writers can be your best assistance in pursuing your degree and guide you through the best.
Disadvantages of Studying Chemical Engineering
Every course has its advantages and disadvantages. We often look up to only the pros of course and neglect the cons of it. But you must not make this mistake. If you have decided to pursue a bachelor's, diploma, master's, or doctorate course in engineering you need to know its disadvantages along with its advantages. Here we have listed a few challenges and hurdles of pursuing a chemical engineering degree.
Chemical engineering is a difficult course to study. You must be motivated and hardworking to complete this degree with good marks. You must study for a longer time as compared to other students and leave away your interesting things to complete all your difficult assignments. If not you will struggle to understand the complex theories and concepts.
As a chemical engineer, you will be required to work hard and use all your creative and problem-solving skills. A typical chemical engineering project might also be more complicated than other engineering projects.
Chemical engineering is a good career to pursue and here you can earn a good amount of salary easily. But in some countries the job for chemical engineers is limited. If you are planning to work in the same country then it might be difficult for you. However, you can try international opportunities and earn well.
Chemical engineers are required to work in dangerous work areas. Yes, not always but you will be expected to work in manufacturing power plants and toxic chemicals. If you cannot intake chorionic exposure then this field of study may not be suitable for you.
Also Read: How Do Online Classes Help Military Veterans Prepare for a New Job?
Frequently Asked Questions
Question 1: What are the specializations in chemical engineering?
Answer 1: Chemical engineering is a wide study area with many subdomains. Food engineering, ceramic engineering, petroleum engineering, environmental engineering, crystal engineering, and bioenergy are the different specializations available in this area.
Question 2: Who is the founder of chemical engineering?
Answer 2: Lewis Mill Norton is the founder of chemical engineering.
Question 3: What can I do after completing my chemical engineering degree?
Answer 3: Chemical engineer, environmental engineer, chemist, and biotechnologist are a few of the job options available after completing your degree in chemical engineering.