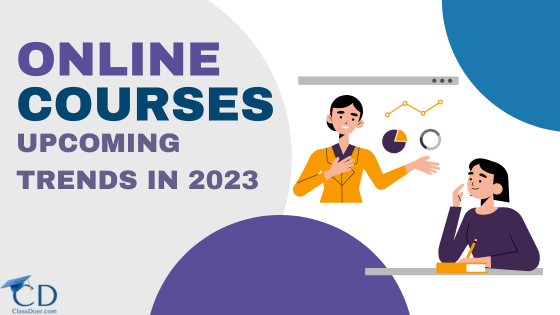 The universe has been on a roller coaster in recent decades. During the global epidemic, technology emerged as a savior for many sectors, including education. Learning is becoming more feasible and accessible as education trends shift. Now we need not go to college or relocate to study; we can study the top courses at the top universities from the comfort of our homes. Better connections and more effective use of advanced technologies are two characteristics that define the new educational era. Apart from the regular course, there have been recent trends in online courses that will benefit students in every way. Are you aware of these trends? If not, read this blog post by classdoer.com and develop your knowledge to be a smarter kid.
This blog contains a list of the most important trends in online courses for 2023 that both students and parents should be aware of. We will also assist everyone in recognizing some superb strategies used by online learning environments. Let's get started, and make sure to read this write-up fully.
Expert's Advice for the Online Courses Trends in 2023
The Learning Technologies event returned to London in 2022 after a two-year absence because of the Covid-19 lockdown. The expert's team had discussions with individuals from all facets of the e-learning sector. They each were asked to provide feedback on the hot topics and trends that were being discussed, and they are now sharing the current trends with students.
Taking into consideration the team's discussions, let's examine the top e-learning trends for 2023.
No-friction education
The most valuable resource that has is people, so experts need to foster an environment where they can perform at their peak. For this reason, a lot of organizations work to make learning for them as frictionless as possible. This can be accomplished with the aid of integrated HR, learning, and talent management solutions that streamline the entire process of personal development and growth.
Sharing internal expertise
To help learners develop their abilities and confidence to take on new challenges and acquire new skills, it is important to capture knowledge and experience that already exists within the organization so that it can be easily shared across the workforce.
Learning on a personal level
Ensuring that everyone has the chance to fulfill their potential, is helped by excellent learning opportunities that are customized to each person's strengths and weaknesses, aspirations, and position within the larger organizational goals. One of the biggest e-learning trends right now is personalized learning.
Less is better
A clear trend is toward simplicity, with accessibility being a major discussion point. People have had enough of having too many options that muddy judgments and impede learning. Furthermore, they also have the additional option of getting help with their different subject online classes. They just need to visit an online class help website and share their concerns with them. For example, if anyone is having trouble keeping up with their online classes, they just need to request to do my online English class for me to get their queries resolved.
Also Read: How to Score Well In Your Online Midterm and Final Exams?
The Upcoming Online Courses Trends in 2023
Professionals have put together a list of the academic latest innovations that will make learning more flexible, available, and interactive for both teachers and students. Whether you are learning online or offline, you might face some difficulties dealing with complex concepts. It is completely normal to encounter problems, but you must be smart enough to overcome them. For example, if you are having difficulty understanding your English course, you can hire professional online Class Doers. Reach out with a request to do my online English class and solve all of your problems.
1- Microlearning
Does the student experience anxiety when given a sizable, complex project? If so, game-based learning might be very advantageous. Work is broken up into manageable chunks as part of the microlearning technique. A teacher might divide the lesson into multiple, half-hour chunks, which are all guided by several supporting tasks, as opposed to giving students a two-hour lecture followed by a problem set. Microlearning is a good fit for online learning because there are lots of tools available that let teachers break up and divide work into easily manageable chunks that students can access.
2- Real-time learning
This one should go without saying. Even though video lectures can be very effective at imparting knowledge, live classes make it much simpler to give students an immersive experience. Additionally, students might be given more responsibility for their work, have the chance to ask questions and receive immediate feedback, and experience a more engaging classroom. Advisors at Develop & Learn have had great success holding live online classes and have personally witnessed how effective it can be for student learning.
3- Web-based Social Teaching
Human interaction cannot be replaced, as everyone has realized over the past few years. This is particularly the case in the classroom, where pupils interact and share knowledge. With the introduction of carefully moderated online forums, collaborative editing (think Google Docs), and even live classes that enable learners to exchange ideas and build upon each other's work, facilitating social learning online has become significantly easier. Students can communicate their setbacks and victories through social online learning, and they can even hone their networking abilities.
4- Initiative-Based Education
It's understandable why project-based learning is a well-liked method both online and off. According to studies, project-based learning can increase students' academic achievement by 20–60%. Nowadays, students can readily access a range of online courses from the comfort of their homes. In project-based learning, students learn by doing tasks and working in teams rather than just finishing them at the end of a unit or topic. For instance, they study math while making their games, riddles, and other projects, which is an engaging teaching method that Creates & Learn has embraced for all of its courses. Also, when they find themselves stuck in their online math classes, they can also get help just by asking "Do my online math class for me".
5- Game-based learning
Game-based learning is a learning strategy that has gained popularity in recent years for both face-to-face and online instruction. Lessons are transformed into games with features like leaderboards, badges, and rewards for achieving specific goals by teachers or online programmers. Game-based learning can encourage and inspire every student in a classroom to play an active role enthusiastically if used properly. Two-thirds of students who studied in gamified lecture halls thought it was more engaging than in traditional classrooms, according to research on the method, which has been shown to increase student engagement by 35%.
6- Learning Management Systems (LMS)
Keeping track of their students' online learning progress and online exams can be challenging for everyone due to the abundance of apps, games, and other educational resources. Consider learning management systems (LMS) like Google Classroom as a digital desk where all the resources of the student are stored, arranged, and readily available. Over the past ten years, LMS quality has rapidly increased, simplifying the management of online learning and fostering greater student-teacher interaction.
7- Date and time flexibility for on-demand courses
Even though online learning has historically been more flexible in its scheduling, parents frequently have to choose between scheduling a live class at an inconvenient time or relying solely on the less interesting video lectures. However, as video platforms and learning technology improve, live classes are becoming more accessible at all hours of the day. Create & Learn, for example, allows parents to choose the best time for their schedules by providing classes over 12 hours.
8- Enhanced Learning Process
Finally, the popularity of optimized learning has increased with the development of top-notch digital tools and a wide range of options. Students have the freedom to decide when, how, and from whom they learn. By combining video and live lessons, teachers, parents, and students can design a comprehensive learning experience that fits their needs and learning preferences. Although no two students learn the same way, the adaptability and variety of online learning options offer each student a personalized and interesting learning environment.
9- Complementary and Alternative Learning
The emphasis now is on ensuring a child's overall and holistic development so that they mature into responsible adults with the necessary skill sets as a result of evolving educational scenarios. Educators are now emphasizing the effective learning approach to education, which is centered on a child's academic studies while also teaching them the necessary skills to meet life's challenges.
The world is becoming more and more digitalized as a result of the ongoing growth of technology. The current standard for both students and teachers is online learning. As time goes on, we may anticipate numerous improvements and updates to the e-learning system, apart from the ones listed above.
Also Read: The Best Online Courses for English Language Learners
Three Major Advantages of Seeking Professional Online Class Assistance
The e-learning trends listed above are the most recent. The more advanced the technology, the more difficult it will be to study. Few students can finish their online exams on time and pass with respectable grades, while the rest suffer from studying their courses like mathematics or networking. In this case, taking experts' help would be the best choice for students. Do you know how to ask for help? If not, let me help you. It's not rocket science, and you can get help by simply asking, Do my online class me."
For certain students, taking online classes and succeeding academically may not be feasible. In those circumstances, seeking specialist advice is the best move. Students who seek professional guidance have a high chance of completing their course with success. The following is a list of some of the advantages of taking online courses:
Best grades
Scoring good grades is every student's dream, but it might not be possible for all learners. Despite trying and working hard, a few students might not be able to score even passing marks. You can, however, easily improve your academic grades by taking online classes.
Obtain detailed work
It might be challenging to take online classes regularly, write notes successfully, and complete your assignments on time. And when the teacher assigns multiple assignments, life becomes even more difficult. You can solve your assignment problems by getting help from online service providers. There are multiple websites eager to assist them by providing excellent assignment solutions.
The best solution when you have time concerns
Most students, especially those in the United States, are part-time learners, which means they do both school and work. Students who are enrolled full-time also hold part-time jobs. They might find it difficult to finish their online classes or exams while also preparing for the midterm and final exams, or vice versa. But if they give their load to a dependable academic course provider, they can devote more time to studying for the upcoming online exams and score well.
The online class or exam service is designed to assist students in all subject areas and comprehend challenging linguistic concepts. In addition to helping students with their course classes, experts also offer tutoring in subjects like psychology, computer science, physics, and even dissertation writing. An online course is not everyone's cup of tea, so if you ever stumble with your course, you can also benefit from the class's assistance. They will also help you with your online exams. Let's suppose you are preparing for the TEAS exam. You can get assistance by saying, "Do my online TEAS exam for me." So, now you don't have to worry about your online classes and exams.
Conclusion
So that brings us to the end of this blog post. Let us have a quick recap of all we have discussed here. We have discussed the top e-learning trends as per the specialists, and now we shed light on the upcoming trends in online courses. Then we talked about the advantages of getting online course help from professional writers, and so on. I hope this write-up provides the students with an access point to the procedures of their upcoming lessons. Let me tell you that these are just a few of the trends we can expect to see shortly; there will be many changes that will benefit students' academic lives.
With so many potential opportunities, it can be difficult to know where to begin and what to do. But by using this data as a guide to what works and what doesn't within the context of their environment, they can begin to identify their priorities and pursue their studies accordingly.
FAQ's
Question.1: What is mobile learning?
Ans: Mobile learning, also known as "m-learning," is a way of getting an education with the help of mobile phones. It is one of the most convenient and cost-effective methods of learning because students can learn at their own pace and according to their interests and preferences.
Question.2: Which online course is the best and most popular to study?
Ans: Data science, machine learning, artificial intelligence, big data, cloud computing, cyber security, and blockchain are some of the best online sources to study. Learning any of these courses would be a great boost to your career.